Calendar Full Width Block
9.7
Tuesday1562619600
10.7
Wednesday1562706000
11.7
Thursday1562792400
12.7
Friday1562878800
13.7
Saturday1562965200
14.7
Sunday1563051600
15.7
Monday1563138000
16.7
Tuesday1563224400
17.7
Wednesday1563310800
18.7
Thursday1563397200
19.7
Friday1563483600
20.7
Saturday1563570000
21.7
Sunday1563656400
22.7
Monday1563742800
23.7
Tuesday1563829200
24.7
Wednesday1563915600
25.7
Thursday1564002000
26.7
Friday1564088400
27.7
Saturday1564174800
28.7
Sunday1564261200
29.7
Monday1564347600
30.7
Tuesday1564434000
31.7
Wednesday1564520400
1.8
Thursday1564606800
2.8
Friday1564693200
3.8
Saturday1564779600
4.8
Sunday1564866000
5.8
Monday1564952400
6.8
Tuesday1565038800
7.8
Wednesday1565125200
8.8
Thursday1565211600
9.8
Friday1565298000
10.8
Saturday1565384400
11.8
Sunday1565470800
12.8
Monday1565557200
13.8
Tuesday1565643600
14.8
Wednesday1565730000
15.8
Thursday1565816400
16.8
Friday1565902800
17.8
Saturday1565989200
18.8
Sunday1566075600
19.8
Monday1566162000
20.8
Tuesday1566248400
21.8
Wednesday1566334800
22.8
Thursday1566421200
23.8
Friday1566507600
24.8
Saturday1566594000
25.8
Sunday1566680400
26.8
Monday1566766800
27.8
Tuesday1566853200
28.8
Wednesday1566939600
29.8
Thursday1567026000
30.8
Friday1567112400
31.8
Saturday1567198800
1.9
Sunday1567285200
2.9
Monday1567371600
3.9
Tuesday1567458000
4.9
Wednesday1567544400
5.9
Thursday1567630800
6.9
Friday1567717200
7.9
Saturday1567803600
8.9
Sunday1567890000
9.9
Monday1567976400
10.9
Tuesday1568062800
11.9
Wednesday1568149200
12.9
Thursday1568235600
13.9
Friday1568322000
14.9
Saturday1568408400
15.9
Sunday1568494800
16.9
Monday1568581200
17.9
Tuesday1568667600
18.9
Wednesday1568754000
19.9
Thursday1568840400
20.9
Friday1568926800
21.9
Saturday1569013200
22.9
Sunday1569099600
23.9
Monday1569186000
24.9
Tuesday1569272400
25.9
Wednesday1569358800
26.9
Thursday1569445200
27.9
Friday1569531600
28.9
Saturday1569618000
29.9
Sunday1569704400
30.9
Monday1569790800
1.10
Tuesday1569877200
2.10
Wednesday1569963600
3.10
Thursday1570050000
4.10
Friday1570136400
5.10
Saturday1570222800
6.10
Sunday1570309200
7.10
Monday1570395600
8.10
Tuesday1570482000
9.10
Wednesday1570568400
10.10
Thursday1570654800
11.10
Friday1570741200
12.10
Saturday1570827600
13.10
Sunday1570914000
14.10
Monday1571000400
15.10
Tuesday1571086800
16.10
Wednesday1571173200
17.10
Thursday1571259600
18.10
Friday1571346000
19.10
Saturday1571432400
20.10
Sunday1571518800
21.10
Monday1571605200
22.10
Tuesday1571691600
23.10
Wednesday1571778000
24.10
Thursday1571864400
25.10
Friday1571950800
26.10
Saturday1572037200
27.10
Sunday1572123600
28.10
Monday1572213600
29.10
Tuesday1572300000
30.10
Wednesday1572386400
31.10
Thursday1572472800
1.11
Friday1572559200
2.11
Saturday1572645600
3.11
Sunday1572732000
4.11
Monday1572818400
5.11
Tuesday1572904800
6.11
Wednesday1572991200
7.11
Thursday1573077600
8.11
Friday1573164000
9.11
Saturday1573250400
10.11
Sunday1573336800
11.11
Monday1573423200
12.11
Tuesday1573509600
13.11
Wednesday1573596000
14.11
Thursday1573682400
15.11
Friday1573768800
16.11
Saturday1573855200
17.11
Sunday1573941600
18.11
Monday1574028000
19.11
Tuesday1574114400
20.11
Wednesday1574200800
21.11
Thursday1574287200
22.11
Friday1574373600
23.11
Saturday1574460000
24.11
Sunday1574546400
25.11
Monday1574632800
26.11
Tuesday1574719200
27.11
Wednesday1574805600
28.11
Thursday1574892000
29.11
Friday1574978400
30.11
Saturday1575064800
1.12
Sunday1575151200
2.12
Monday1575237600
3.12
Tuesday1575324000
4.12
Wednesday1575410400
5.12
Thursday1575496800
6.12
Friday1575583200
7.12
Saturday1575669600
8.12
Sunday1575756000
9.12
Monday1575842400
10.12
Tuesday1575928800
11.12
Wednesday1576015200
12.12
Thursday1576101600
13.12
Friday1576188000
14.12
Saturday1576274400
15.12
Sunday1576360800
16.12
Monday1576447200
17.12
Tuesday1576533600
18.12
Wednesday1576620000
19.12
Thursday1576706400
20.12
Friday1576792800
21.12
Saturday1576879200
22.12
Sunday1576965600
23.12
Monday1577052000
24.12
Tuesday1577138400
25.12
Wednesday1577224800
26.12
Thursday1577311200
27.12
Friday1577397600
28.12
Saturday1577484000
29.12
Sunday1577570400
30.12
Monday1577656800
31.12
Tuesday1577743200
1.1
Wednesday1577829600
2.1
Thursday1577916000
3.1
Friday1578002400
4.1
Saturday1578088800
5.1
Sunday1578175200
6.1
Monday1578261600
7.1
Tuesday1578348000
8.1
Wednesday1578434400
9.1
Thursday1578520800
10.1
Friday1578607200
11.1
Saturday1578693600
12.1
Sunday1578780000
13.1
Monday1578866400
14.1
Tuesday1578952800
15.1
Wednesday1579039200
16.1
Thursday1579125600
17.1
Friday1579212000
18.1
Saturday1579298400
19.1
Sunday1579384800
20.1
Monday1579471200
21.1
Tuesday1579557600
22.1
Wednesday1579644000
23.1
Thursday1579730400
24.1
Friday1579816800
25.1
Saturday1579903200
26.1
Sunday1579989600
27.1
Monday1580076000
28.1
Tuesday1580162400
29.1
Wednesday1580248800
30.1
Thursday1580335200
31.1
Friday1580421600
1.2
Saturday1580508000
2.2
Sunday1580594400
3.2
Monday1580680800
4.2
Tuesday1580767200
5.2
Wednesday1580853600
6.2
Thursday1580940000
7.2
Friday1581026400
8.2
Saturday1581112800
9.2
Sunday1581199200
10.2
Monday1581285600
11.2
Tuesday1581372000
12.2
Wednesday1581458400
13.2
Thursday1581544800
14.2
Friday1581631200
15.2
Saturday1581717600
16.2
Sunday1581804000
17.2
Monday1581890400
18.2
Tuesday1581976800
19.2
Wednesday1582063200
20.2
Thursday1582149600
21.2
Friday1582236000
22.2
Saturday1582322400
23.2
Sunday1582408800
24.2
Monday1582495200
25.2
Tuesday1582581600
26.2
Wednesday1582668000
27.2
Thursday1582754400
28.2
Friday1582840800
29.2
Saturday1582927200
1.3
Sunday1583013600
2.3
Monday1583100000
3.3
Tuesday1583186400
4.3
Wednesday1583272800
5.3
Thursday1583359200
6.3
Friday1583445600
7.3
Saturday1583532000
8.3
Sunday1583618400
9.3
Monday1583704800
10.3
Tuesday1583791200
11.3
Wednesday1583877600
12.3
Thursday1583964000
13.3
Friday1584050400
14.3
Saturday1584136800
15.3
Sunday1584223200
16.3
Monday1584309600
17.3
Tuesday1584396000
18.3
Wednesday1584482400
19.3
Thursday1584568800
20.3
Friday1584655200
21.3
Saturday1584741600
22.3
Sunday1584828000
23.3
Monday1584914400
24.3
Tuesday1585000800
25.3
Wednesday1585087200
26.3
Thursday1585173600
27.3
Friday1585260000
28.3
Saturday1585342800
29.3
Sunday1585429200
30.3
Monday1585515600
31.3
Tuesday1585602000
1.4
Wednesday1585688400
2.4
Thursday1585774800
3.4
Friday1585861200
4.4
Saturday1585947600
5.4
Sunday1586034000
6.4
Monday1586120400
7.4
Tuesday1586206800
8.4
Wednesday1586293200
9.4
Thursday1586379600
10.4
Friday1586466000
11.4
Saturday1586552400
12.4
Sunday1586638800
13.4
Monday1586725200
14.4
Tuesday1586811600
15.4
Wednesday1586898000
16.4
Thursday1586984400
17.4
Friday1587070800
18.4
Saturday1587157200
19.4
Sunday1587243600
20.4
Monday1587330000
21.4
Tuesday1587416400
22.4
Wednesday1587502800
23.4
Thursday1587589200
24.4
Friday1587675600
25.4
Saturday1587762000
26.4
Sunday1587848400
27.4
Monday1587934800
28.4
Tuesday1588021200
29.4
Wednesday1588107600
30.4
Thursday1588194000
1.5
Friday1588280400
2.5
Saturday1588366800
3.5
Sunday1588453200
4.5
Monday1588539600
5.5
Tuesday1588626000
6.5
Wednesday1588712400
7.5
Thursday1588798800
8.5
Friday1588885200
9.5
Saturday1588971600
10.5
Sunday1589058000
11.5
Monday1589144400
12.5
Tuesday1589230800
13.5
Wednesday1589317200
14.5
Thursday1589403600
15.5
Friday1589490000
16.5
Saturday1589576400
17.5
Sunday1589662800
18.5
Monday1589749200
19.5
Tuesday1589835600
20.5
Wednesday1589922000
21.5
Thursday1590008400
22.5
Friday1590094800
23.5
Saturday1590181200
24.5
Sunday1590267600
25.5
Monday1590354000
26.5
Tuesday1590440400
27.5
Wednesday1590526800
28.5
Thursday1590613200
29.5
Friday1590699600
30.5
Saturday1590786000
31.5
Sunday1590872400
1.6
Monday1590958800
2.6
Tuesday1591045200
3.6
Wednesday1591131600
4.6
Thursday1591218000
5.6
Friday1591304400
6.6
Saturday1591390800
7.6
Sunday1591477200
8.6
Monday1591563600
9.6
Tuesday1591650000
10.6
Wednesday1591736400
11.6
Thursday1591822800
12.6
Friday1591909200
13.6
Saturday1591995600
14.6
Sunday1592082000
15.6
Monday1592168400
16.6
Tuesday1592254800
17.6
Wednesday1592341200
18.6
Thursday1592427600
19.6
Friday1592514000
20.6
Saturday1592600400
21.6
Sunday1592686800
22.6
Monday1592773200
23.6
Tuesday1592859600
24.6
Wednesday1592946000
25.6
Thursday1593032400
26.6
Friday1593118800
27.6
Saturday1593205200
28.6
Sunday1593291600
29.6
Monday1593378000
30.6
Tuesday1593464400
1.7
Wednesday1593550800
2.7
Thursday1593637200
3.7
Friday1593723600
4.7
Saturday1593810000
5.7
Sunday1593896400
6.7
Monday1593982800
7.7
Tuesday1594069200
8.7
Wednesday1594155600
9.7
Thursday1594242000
10.7
Friday1594328400
11.7
Saturday1594414800
12.7
Sunday1594501200
13.7
Monday1594587600
14.7
Tuesday1594674000
15.7
Wednesday1594760400
16.7
Thursday1594846800
17.7
Friday1594933200
18.7
Saturday1595019600
19.7
Sunday1595106000
20.7
Monday1595192400
21.7
Tuesday1595278800
22.7
Wednesday1595365200
23.7
Thursday1595451600
24.7
Friday1595538000
25.7
Saturday1595624400
26.7
Sunday1595710800
27.7
Monday1595797200
28.7
Tuesday1595883600
29.7
Wednesday1595970000
30.7
Thursday1596056400
31.7
Friday1596142800
1.8
Saturday1596229200
2.8
Sunday1596315600
3.8
Monday1596402000
4.8
Tuesday1596488400
5.8
Wednesday1596574800
6.8
Thursday1596661200
7.8
Friday1596747600
8.8
Saturday1596834000
9.8
Sunday1596920400
10.8
Monday1597006800
11.8
Tuesday1597093200
12.8
Wednesday1597179600
13.8
Thursday1597266000
14.8
Friday1597352400
15.8
Saturday1597438800
16.8
Sunday1597525200
17.8
Monday1597611600
18.8
Tuesday1597698000
19.8
Wednesday1597784400
20.8
Thursday1597870800
21.8
Friday1597957200
22.8
Saturday1598043600
23.8
Sunday1598130000
24.8
Monday1598216400
25.8
Tuesday1598302800
26.8
Wednesday1598389200
27.8
Thursday1598475600
28.8
Friday1598562000
29.8
Saturday1598648400
30.8
Sunday1598734800
31.8
Monday1598821200
1.9
Tuesday1598907600
2.9
Wednesday1598994000
3.9
Thursday1599080400
4.9
Friday1599166800
5.9
Saturday1599253200
6.9
Sunday1599339600
7.9
Monday1599426000
8.9
Tuesday1599512400
9.9
Wednesday1599598800
10.9
Thursday1599685200
11.9
Friday1599771600
12.9
Saturday1599858000
13.9
Sunday1599944400
14.9
Monday1600030800
15.9
Tuesday1600117200
16.9
Wednesday1600203600
17.9
Thursday1600290000
18.9
Friday1600376400
19.9
Saturday1600462800
20.9
Sunday1600549200
21.9
Monday1600635600
22.9
Tuesday1600722000
23.9
Wednesday1600808400
24.9
Thursday1600894800
25.9
Friday1600981200
26.9
Saturday1601067600
27.9
Sunday1601154000
28.9
Monday1601240400
29.9
Tuesday1601326800
30.9
Wednesday1601413200
1.10
Thursday1601499600
2.10
Friday1601586000
3.10
Saturday1601672400
4.10
Sunday1601758800
5.10
Monday1601845200
6.10
Tuesday1601931600
7.10
Wednesday1602018000
8.10
Thursday1602104400
9.10
Friday1602190800
10.10
Saturday1602277200
11.10
Sunday1602363600
12.10
Monday1602450000
13.10
Tuesday1602536400
14.10
Wednesday1602622800
15.10
Thursday1602709200
16.10
Friday1602795600
17.10
Saturday1602882000
18.10
Sunday1602968400
19.10
Monday1603054800
20.10
Tuesday1603141200
21.10
Wednesday1603227600
22.10
Thursday1603314000
23.10
Friday1603400400
24.10
Saturday1603486800
25.10
Sunday1603573200
26.10
Monday1603663200
27.10
Tuesday1603749600
28.10
Wednesday1603836000
29.10
Thursday1603922400
30.10
Friday1604008800
31.10
Saturday1604095200
1.11
Sunday1604181600
2.11
Monday1604268000
3.11
Tuesday1604354400
4.11
Wednesday1604440800
5.11
Thursday1604527200
6.11
Friday1604613600
7.11
Saturday1604700000
8.11
Sunday1604786400
9.11
Monday1604872800
10.11
Tuesday1604959200
11.11
Wednesday1605045600
12.11
Thursday1605132000
13.11
Friday1605218400
14.11
Saturday1605304800
15.11
Sunday1605391200
16.11
Monday1605477600
17.11
Tuesday1605564000
18.11
Wednesday1605650400
19.11
Thursday1605736800
20.11
Friday1605823200
21.11
Saturday1605909600
22.11
Sunday1605996000
23.11
Monday1606082400
24.11
Tuesday1606168800
25.11
Wednesday1606255200
26.11
Thursday1606341600
27.11
Friday1606428000
28.11
Saturday1606514400
29.11
Sunday1606600800
30.11
Monday1606687200
1.12
Tuesday1606773600
2.12
Wednesday1606860000
3.12
Thursday1606946400
4.12
Friday1607032800
5.12
Saturday1607119200
6.12
Sunday1607205600
7.12
Monday1607292000
8.12
Tuesday1607378400
9.12
Wednesday1607464800
10.12
Thursday1607551200
11.12
Friday1607637600
12.12
Saturday1607724000
13.12
Sunday1607810400
14.12
Monday1607896800
15.12
Tuesday1607983200
16.12
Wednesday1608069600
17.12
Thursday1608156000
18.12
Friday1608242400
19.12
Saturday1608328800
20.12
Sunday1608415200
21.12
Monday1608501600
22.12
Tuesday1608588000
23.12
Wednesday1608674400
24.12
Thursday1608760800
25.12
Friday1608847200
26.12
Saturday1608933600
27.12
Sunday1609020000
28.12
Monday1609106400
29.12
Tuesday1609192800
30.12
Wednesday1609279200
31.12
Thursday1609365600
1.1
Friday1609452000
2.1
Saturday1609538400
3.1
Sunday1609624800
4.1
Monday1609711200
5.1
Tuesday1609797600
6.1
Wednesday1609884000
7.1
Thursday1609970400
8.1
Friday1610056800
9.1
Saturday1610143200
10.1
Sunday1610229600
11.1
Monday1610316000
12.1
Tuesday1610402400
13.1
Wednesday1610488800
14.1
Thursday1610575200
15.1
Friday1610661600
16.1
Saturday1610748000
17.1
Sunday1610834400
18.1
Monday1610920800
19.1
Tuesday1611007200
20.1
Wednesday1611093600
21.1
Thursday1611180000
22.1
Friday1611266400
23.1
Saturday1611352800
24.1
Sunday1611439200
25.1
Monday1611525600
26.1
Tuesday1611612000
27.1
Wednesday1611698400
28.1
Thursday1611784800
29.1
Friday1611871200
30.1
Saturday1611957600
31.1
Sunday1612044000
1.2
Monday1612130400
2.2
Tuesday1612216800
3.2
Wednesday1612303200
4.2
Thursday1612389600
5.2
Friday1612476000
6.2
Saturday1612562400
7.2
Sunday1612648800
8.2
Monday1612735200
9.2
Tuesday1612821600
10.2
Wednesday1612908000
11.2
Thursday1612994400
12.2
Friday1613080800
13.2
Saturday1613167200
14.2
Sunday1613253600
15.2
Monday1613340000
16.2
Tuesday1613426400
17.2
Wednesday1613512800
18.2
Thursday1613599200
19.2
Friday1613685600
20.2
Saturday1613772000
21.2
Sunday1613858400
22.2
Monday1613944800
23.2
Tuesday1614031200
24.2
Wednesday1614117600
25.2
Thursday1614204000
26.2
Friday1614290400
27.2
Saturday1614376800
28.2
Sunday1614463200
1.3
Monday1614549600
2.3
Tuesday1614636000
3.3
Wednesday1614722400
4.3
Thursday1614808800
5.3
Friday1614895200
6.3
Saturday1614981600
7.3
Sunday1615068000
8.3
Monday1615154400
9.3
Tuesday1615240800
10.3
Wednesday1615327200
11.3
Thursday1615413600
12.3
Friday1615500000
13.3
Saturday1615586400
14.3
Sunday1615672800
15.3
Monday1615759200
16.3
Tuesday1615845600
17.3
Wednesday1615932000
18.3
Thursday1616018400
19.3
Friday1616104800
20.3
Saturday1616191200
21.3
Sunday1616277600
22.3
Monday1616364000
23.3
Tuesday1616450400
24.3
Wednesday1616536800
25.3
Thursday1616623200
26.3
Friday1616709600
27.3
Saturday1616792400
28.3
Sunday1616878800
29.3
Monday1616965200
30.3
Tuesday1617051600
31.3
Wednesday1617138000
1.4
Thursday1617224400
2.4
Friday1617310800
3.4
Saturday1617397200
4.4
Sunday1617483600
5.4
Monday1617570000
6.4
Tuesday1617656400
7.4
Wednesday1617742800
8.4
Thursday1617829200
9.4
Friday1617915600
10.4
Saturday1618002000
11.4
Sunday1618088400
12.4
Monday1618174800
13.4
Tuesday1618261200
14.4
Wednesday1618347600
15.4
Thursday1618434000
16.4
Friday1618520400
17.4
Saturday1618606800
18.4
Sunday1618693200
19.4
Monday1618779600
20.4
Tuesday1618866000
21.4
Wednesday1618952400
22.4
Thursday1619038800
23.4
Friday1619125200
24.4
Saturday1619211600
25.4
Sunday1619298000
26.4
Monday1619384400
27.4
Tuesday1619470800
28.4
Wednesday1619557200
29.4
Thursday1619643600
30.4
Friday1619730000
1.5
Saturday1619816400
2.5
Sunday1619902800
3.5
Monday1619989200
4.5
Tuesday1620075600
5.5
Wednesday1620162000
6.5
Thursday1620248400
7.5
Friday1620334800
8.5
Saturday1620421200
9.5
Sunday1620507600
10.5
Monday1620594000
11.5
Tuesday1620680400
12.5
Wednesday1620766800
13.5
Thursday1620853200
14.5
Friday1620939600
15.5
Saturday1621026000
16.5
Sunday1621112400
17.5
Monday1621198800
18.5
Tuesday1621285200
19.5
Wednesday1621371600
20.5
Thursday1621458000
21.5
Friday1621544400
22.5
Saturday1621630800
23.5
Sunday1621717200
24.5
Monday1621803600
25.5
Tuesday1621890000
26.5
Wednesday1621976400
27.5
Thursday1622062800
28.5
Friday1622149200
29.5
Saturday1622235600
30.5
Sunday1622322000
31.5
Monday1622408400
1.6
Tuesday1622494800
2.6
Wednesday1622581200
3.6
Thursday1622667600
4.6
Friday1622754000
5.6
Saturday1622840400
6.6
Sunday1622926800
7.6
Monday1623013200
8.6
Tuesday1623099600
9.6
Wednesday1623186000
10.6
Thursday1623272400
11.6
Friday1623358800
12.6
Saturday1623445200
13.6
Sunday1623531600
14.6
Monday1623618000
15.6
Tuesday1623704400
16.6
Wednesday1623790800
17.6
Thursday1623877200
18.6
Friday1623963600
19.6
Saturday1624050000
20.6
Sunday1624136400
21.6
Monday1624222800
22.6
Tuesday1624309200
23.6
Wednesday1624395600
24.6
Thursday1624482000
25.6
Friday1624568400
26.6
Saturday1624654800
27.6
Sunday1624741200
Speaker (in Heb.): Albert Gabai
Dir.: Autumn de Wilde
125 minutes
Jane Austen's beloved comedy about finding your equal and earning your happy ending is reimagined in this delicious new film adaptation of EMMA. In this glittering satire of social class, Emma must navigate her way through the challenges of growing up, misguided matches and romantic missteps to realize the love that has been there all along.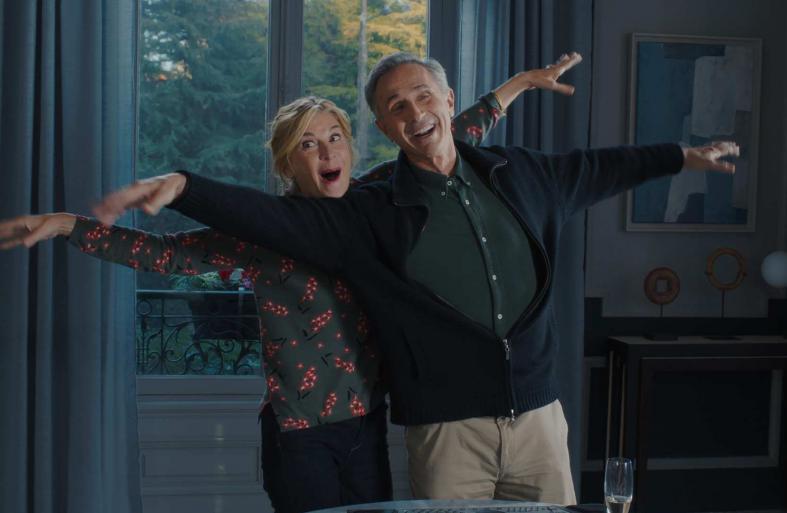 Dir.: Fabrice Bracq
96 minutes
Marilou and Philippe are finally retiring and contemplating spending their golden years in Portugal. But when their children find out about their retirement, they have different plans for the couple.... A charming film that takes joy in the chemistry between the two leads.
Numerous artists, each one with their unique point of view and technique, are showing their works after a long period of seclusion. The entrance is free and in accordance with the Ministry of Health guidelines. Please ensure to order a ticket in advance.
Dir.: Rupert Goold
136 minutes
Winter 1968 and showbiz legend Judy Garland arrives in Swinging London to perform a five-week sold-out run at The Talk of the Town. It is 30 years since she shot to global stardom in The Wizard of Oz, but if her voice has weakened, its dramatic intensity has only grown.
Dir.: Marco Bellocchio
145 minutes
The real life of Tommaso Buscetta, the so-called "boss of the two worlds," the first mafia informant in Sicily in the 1980s.